On July 6, the "Ascend AI Industry Summit Forum" hosted by Huawei was grandly opened during the 2023 World AI Conference. The forum focused on hot spots of the industry such as large models and AI4S and explored cutting-edge technologies of artificial intelligence to boost the in-depth integration of AI and industries and usher in a win-win era of intelligence. Digital China has built its own brand Shenzhou Kuntai series servers and been deeply involved in the industrial ecosystem construction of Ascend, releasing a new generation of central training servers in the forum.
At present, artificial intelligence is becoming a new technology singularity to advance human society into the era of intelligence, and helping us shift from the perception and understanding of the world to creation of the world. The in-depth integration between artificial intelligence and industries is creating a burst of growth points, triggering a new round of technological and industrial revolutions. The rise of the large computing power model has raised higher requirements on central training servers. The new generation of Shenzhou Kuntai central training server based on Kunpeng 920 and Ascend 910 processor integrates AI computing subsystem, CPU computing subsystem, DDR controller, HBMC controller, image & video preprocessor, external communication module, hardware accelerator, chip management module, providing complete SOC function, which is widely applied in service scenarios such as deep learning, model development and AI training, with an outstanding performance in many industrial scenarios. The server is oriented to fields such as public cloud, Internet, operators, government and enterprise, transportation, finance, education, and electric power, boasting the advantages of high computing density, high energy efficiency ratio, high network bandwidth, easy expansion, and easy management, which supports stand-alone and full cabinet modes and can be deployed in machine rooms of enterprises and large-scale data center clusters.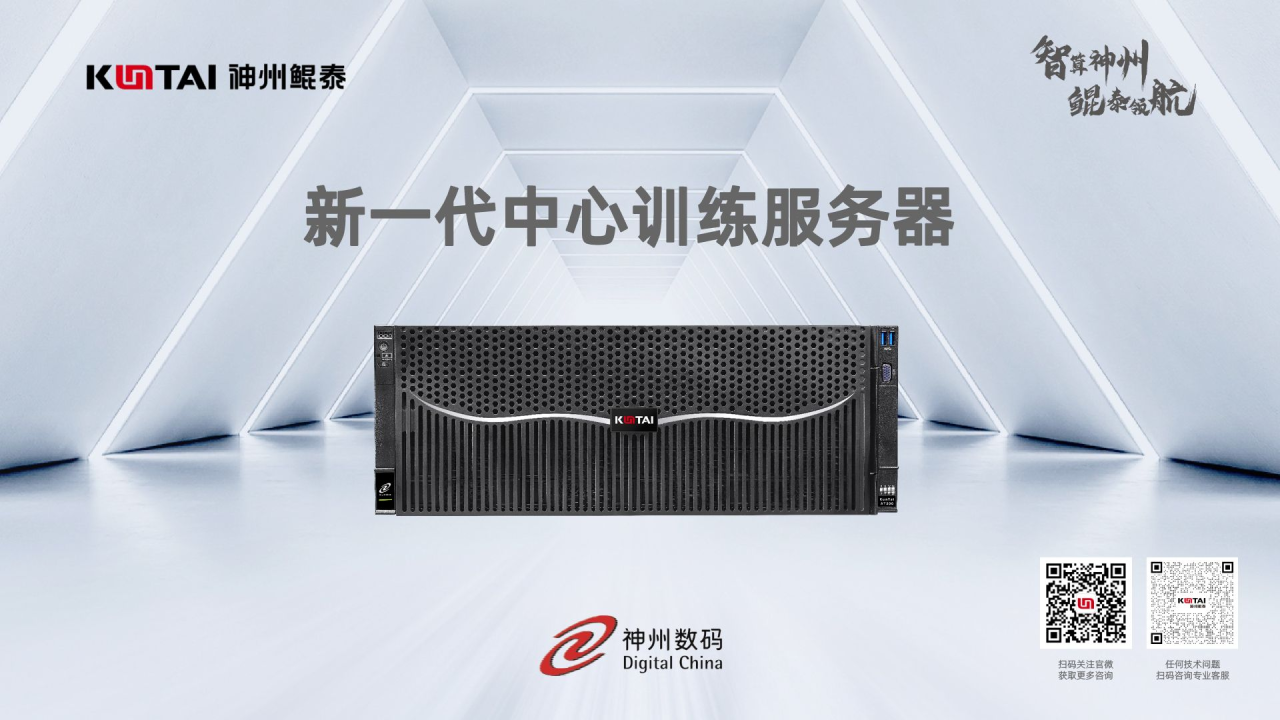 Meanwhile, in the era of computing infrastructure, the construction of data centers in China has embarked on a fast lane, shifting from machine rooms of servers in the traditional sense to the super computing centers realizing a large-scale output of computing power. In the face of a large-scale eruption of AI computing demands, and the in-depth integration with R&D demands and real industry, the data center also needs to evolve from general computing power to intelligent computing power. The new generation of Shenzhou Kuntai central training server lives up to the task.
The central training server offers intelligent computing power to support the building of industrial data models, which has achieved headway in such fields as pharmaceutical R&D and weather forecast. In the medical field, driven by AI, the traditional diagnosis and treatment and R&D model has been changed. AI has brought about a substantial change. Virtual clinical trial simulated through algorithm model, known as "dry experiment" in the industry, can significantly improve the cost and process of "wet experiment (real drug experiment)". At present, this experiment method combining reality and virtuality is becoming the mainstream of drug research and development. In the field of meteorology, artificial intelligence has brought many new ideas and paths, which can greatly improve the speed of meteorological forecast, enhance the timeliness of forecasting, and mine laws and mathematical equations from the data. By extracting atmospheric evolution laws from data with AI models and 3D high-resolution AI weather forecast methods, Huawei has developed a numerical weather forecast system based on artificial intelligence, and explored technological innovations in the design of 3D Earth-Specific network structure (3DEST) and the application of hierarchical time-domain aggregation strategy.
In the digital era, artificial intelligence has become a key productivity to promote the industrial reform, which requires the upstream and downstream partners of the industry to jointly promote the sustainable and healthy development of ecosphere. Digital China will gather industrial innovation strength with Huawei and many partners to create a new ecosphere of science and technology and usher in a win-win new future of intelligence.