On May 25, 2023, the world's leading international hotel management company Intercontinental Hotels Group (IHG PLC) held "2023 Summit of IHG China". Digital China attended the event as a diamond sponsor and signed a "MASTER SERVICES AGREEMENT" ("MSA") with IHG. Yunke China, a subsidiary of Digital China, will officially become a supplier of network products for IHG to provide cloud SaaS solution for hotels under IHG as one of the three network standard brands of IHG in Greater China. Yang Jing, chief purchasing officer of IHG in Greater China and Gao Feng, general manager of the Network BU of Digital China Enterprise Cloud Business Group, signed the agreement on behalf of both sides, which was witnessed by Zhong Jie, vice president in charge of information technology solutions for hotels and owners of IHG in Greater China and Wu Hao, vice president of Digital China and general manager of the Enterprise Cloud Business Group.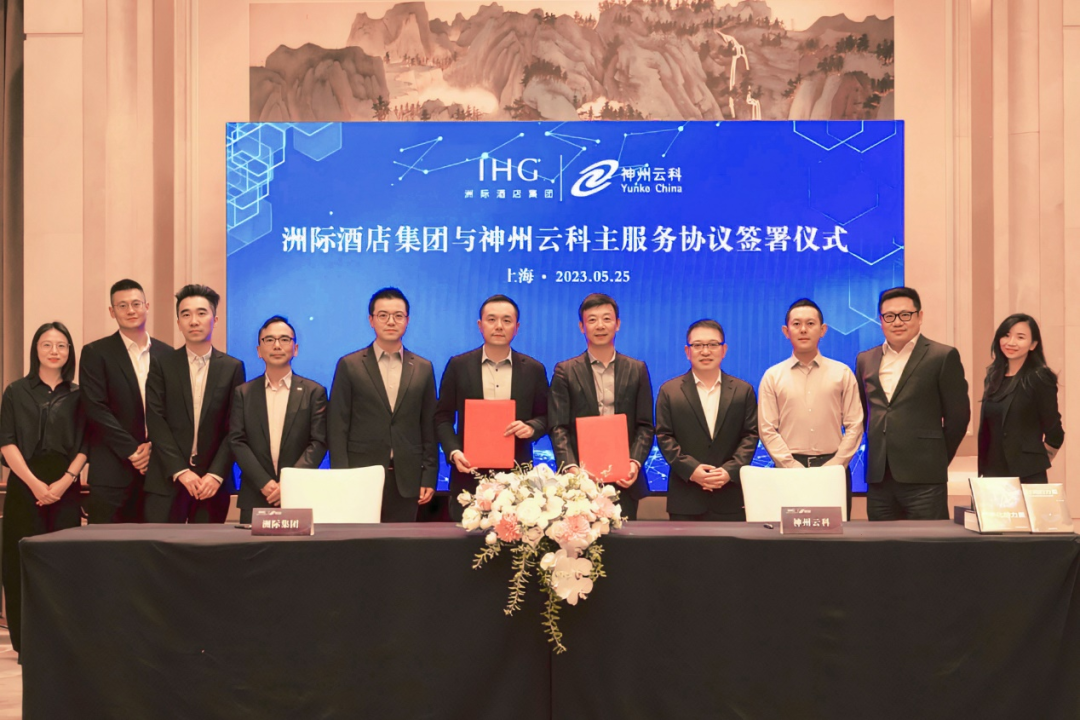 It is known that InterContinental Hotels Group [London Stock Exchange: IHG, New York Stock Exchange: IHG (ADRs)] is a world-leading international hotel group, adhering to the corporate mission of "Kind and Sincere to Guests", with more than 6,000 hotels in more than 100 countries and regions around the world, and more than 1,900 hotels under construction. It is a group holding company established in the United Kingdom and registered in England and Wales respectively.
Relying on 20 years of experience, Digital China has developed its own products at a high speed. Through being deeply involved in the industrial practice in diverse scenarios, it has constantly polished a closed-loop management system for its products from design to production. It is committed to constant independent innovation, creating products and total solutions of servers, middleware, universal solutions and even comprehensive computing platforms. It is empowering the digital transformation of the industry, centered around customers, based on solutions and supported by its products and services.
The network solutions provided by Digital China for IHG this time can achieve configuration delivery, performance monitoring and equipment management for all equipment of Yunke China under IHG through the SaaS cloud, realize automation of the network, and provide more intelligent and flexible solutions for the digital transformation of the hotel industry. In the coming years, in addition to the hardware of Digital China itself, it can also access other systems in the hotel, including but not limited to gateway, IPTV, server, storage, PABX, AI Operator, intelligent door lock, customer control system, robot, and CCTV system. It can analyze the data generated during operations with the predictable analysis platform, and assist the hotel management, with an aim to become a cloud data middle platform, cloud data bank, and cloud AI analysis system for each hotel management group.
Centering on the network needs of users of IHG, Digital China has tailored suitable network solutions with leading management concepts, so that the overall cost of customer information construction can yield the maximum return. In the past, users had to deal with multi-node network products, and usually failed to judge the input-output efficiency of the overall investment from a macroscopic perspective. Based on the hotel solutions provided by Digital China, users can judge the input-output and sustainable development at the strategic level, and receive professional consulting services. Meanwhile, by providing users with a single service window, it also promotes the close cooperation between suppliers and service providers to provide customers with better and more cost-effective services.
Wu Hao says that the cooperation this time means that the network products of Digital China's own brands will be applied in one of the most influential hotel groups in the world, and also marks that Digital China's brands officially enter the high-end chain hotel management groups on a large scale. In the next stage, Digital China plans to achieve cloud coverage of most hotels of IHG in Greater China, and promote the intelligent and digital upgrade of the hotel industry based on its own brands and solutions.
Zhong Jie says that global experience and standards are an important cornerstone for IHG to stay at a leading position in the industry, and the localization practice "in China, for China" is the engine for us in the Chinese market for nearly half a century. On the road of digitalization of IHG, the joining of local partners can help the group optimize its products and services with a more acute local insight on the demand side, and help the owners to "reduce costs and increase benefits" on the supply side, so as to truly achieve "value" and "win-win results".