Recently, Digital China passed the certification of KCSP (Kubernetes Certified Service Provider), and officially became a Kubernetes service provider officially certified by CNCF (Cloud-Native Computing Foundation). Passing the review of KCSP this time marks that Digital China's profound technical strength and proven practical experience in the field of open-source technology have been officially recognized by CNCF, and also shows that its Kubernetes service capacity can provide reliable guarantee for customers on the cloud.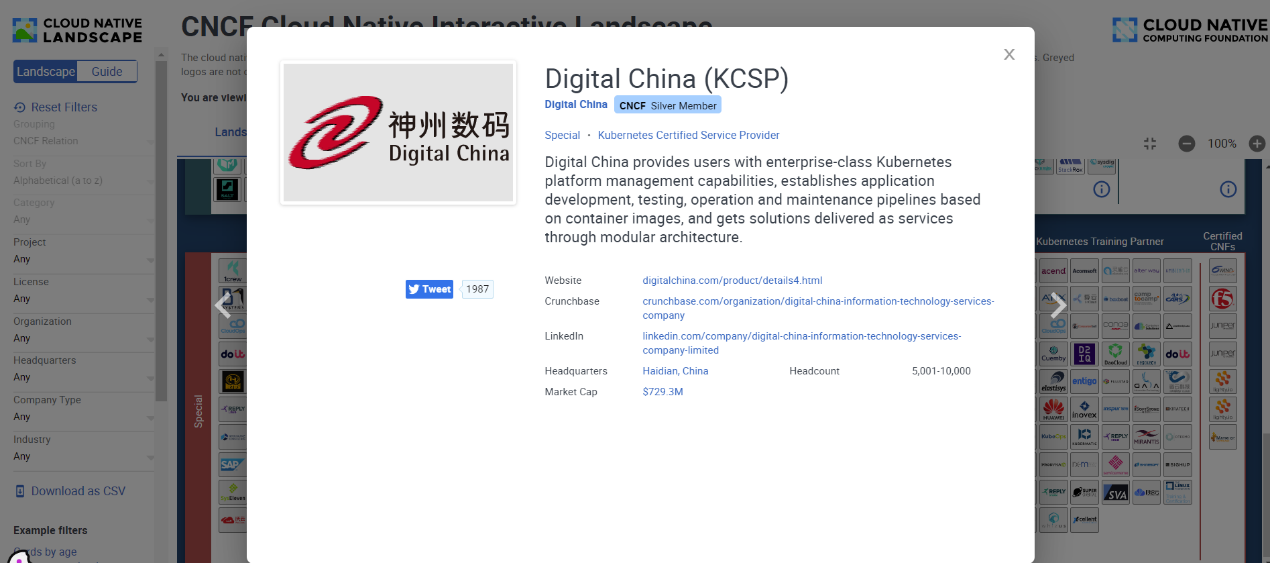 With efforts on open source, supporting the development of open-source industry's ecosystem
Over the past three decades, open-source software has become a powerful driving force for the development of global information technology with a new open, shared and collaborative mode of production. In this context, the KCSP (Kubernetes Certified Services Provider) established by the CNCF Foundation, is a project to review the Kubernetes service supporting capacity of providers with rich Kubernetes development experience. Every provider passing the certification of KCSP has to be strictly reviewed and certified by CNCF.
Digital China has always been unswervingly exploring open-source technology for a long time. In recent years, Digital China is committed to becoming a leading partner in digital transformation. It fully embraces the power of digitalization, actively promotes the accelerated iteration of the new technology paradigm system of "data-cloud integration", and makes unremitting efforts in the fields of "data", "cloud", and "open source". In its efforts in open source, based on its diverse business scenarios and great ecological coverage capacity, Digital China has accumulated constantly in such aspects as Kubernets, KubeVela, Labrador framework, and DevOps platform, and built its solutions and capabilities to deliver technology service in scenarios close to the customers. Meanwhile, it has collaborated with open-source organizations actively, coordinated more open-source enterprises to integrate into communities and actively co-built open-source ecosystems to promote the healthy development of open-source ecosystem.
Applications of integration help industrial customers to embrace open source
In addition to in-depth exploration in the field of open-source technology, relying on the strategic guidance of data-cloud integration and based on the current situation of digital transformation of Chinese enterprises, Digital China has skillfully helped industrial customers to unleash the power of digitalization based on its open-source technology capacity.
Based on years of enterprise services, Digital China has realized that Chinese enterprises have a strong demand for solutions across cloud, edge and dedicated environments, as well as technologies that can provide a consistent deployment experience, when introducing Cloud-Native technology to build their own business applications. Meanwhile, since Cloud-Native technology is advanced, it has greatly increased the difficulty of technical management in the practice, increased the trial-and-error cost of enterprises in technology, increased the technical dependence on external third-party ISV, hindering the application of Cloud-Native technology in business scenarios of enterprises to a certain extent.
For this purpose, based on the industry-leading OAM (Open Application Model), with enterprise applications as the center, and the openness of third-party plug-in integration, Digital China has shielded the complexity of Kubernets and underlying IaaS resources from business scenarios and established its own technology specifications and standards when enterprises are establishing Cloud-Native applications. It has helped the enterprises to get rid of reliance on single ISV or cloud resource provider in different scenarios such as cloud service for enterprises, micro-service transformation, PaaS platform migration and ARM64 platform adaptation and migration, and provides a highly consistent deploying experience for business applications.
In the future, Digital China will continue to develop functions and products and expand the ecosystem in the field of open-source technology, constantly increase investment in the field of Cloud-Native and provide more professional Kubernetes services and technical support for enterprise customers, so as to promote the sustainable development of the entire Cloud-Native ecosystem.