Recently, after the strict inspection and evaluation conducted by the China Cybersecurity Review Technology and Certification Center (CCRC), Digital China was awarded with three service qualification certificates of integrated services for information system security, information security risk assessment service and information security emergency handling. This represented the recognition and affirmation of CCRC for Digital China's security service concept and capability, marking that Digital China had further perfected its deployment in the security industry centered on network and data security and its comprehensive strength had increased continually in the field of security.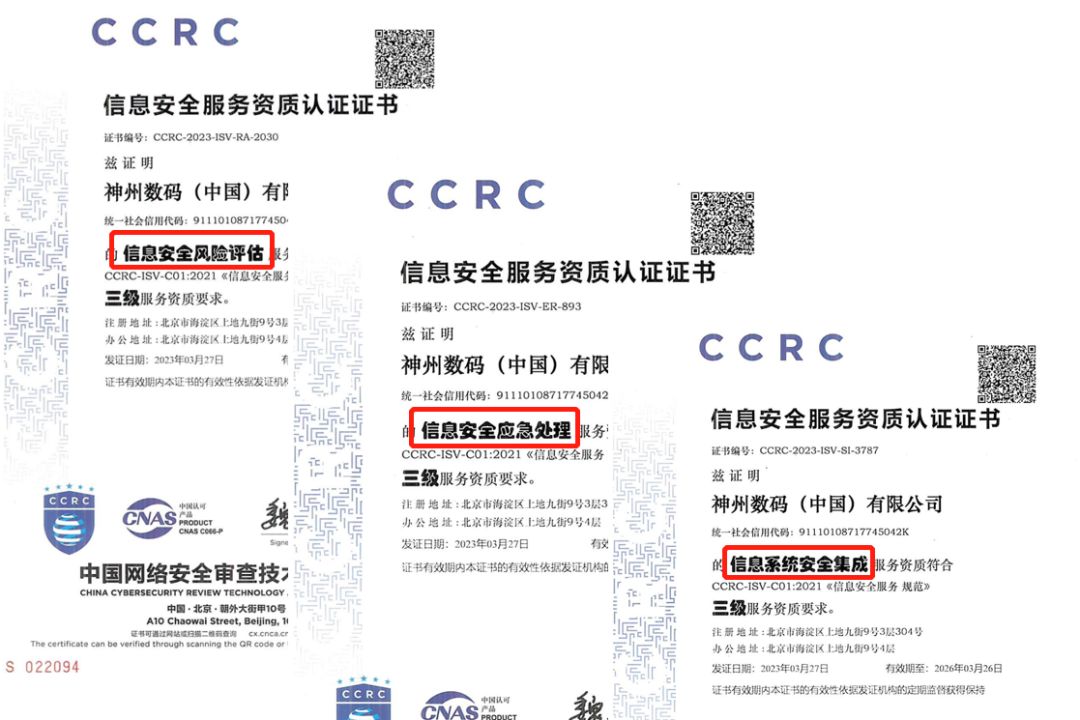 CCRC qualification certificate
It's reported that CCRC information security service qualification is authoritative in the field of information security services, which is an evaluation of the information security service providers' capacity in accordance with national laws and regulations, national standards, industrial standards and technical specifications, and the basic certification regulations and rules.
With the rapid development of digital economy, the security system with network security and data security as the core has been promoted to a strategic height of the country, and has become an important guarantee for maintaining the sustainable and healthy development of digital economy. The enacting of related laws such as Network security Law, Data Security Law, Personal Information Protection Law has allowed the security industry market to usher in a new opportunity for its vigorous development.
In 2022, based on its deep understanding of digital transformation of enterprises, Digital China initiated the technology system and strategic direction of "data-cloud integration", integrated the cloud-native agile capabilities and data-driven value insights, enabling the digital upgrading of the industry and the digital transformation of enterprises. In the data-cloud integration blueprint of Digital China, the security industry with network security and data security as the core has also become one of its major focuses of efforts.
After working hard in the field of security over the years, the service capacity of Digital China has covered seven major fields of security including infrastructure security, border security, terminal security, data security, identity security, application security and cloud security. Based on its many years of professional methodology and service process and in accordance with the industry's characteristics and current conditions of customers, it has conducted a careful security evaluation on users from various perspectives such as management and technology and provided the customers with the most suitable solutions.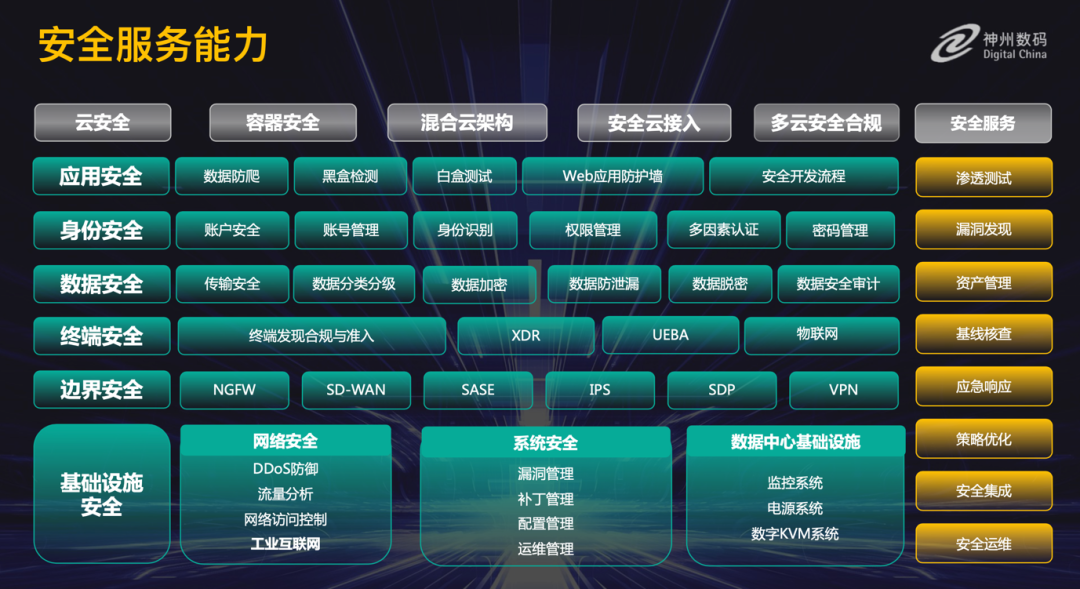 Seizing the opportunity of the times, Digital China will continue to increase investment, constantly promote the upgrading of its own products, technology and service capacity in the field of security, continue to build and improve its full life cycle capabilities in network security solutions, thereby better enabling digital transformation and industrial upgrading, and promoting the digital transformation of enterprises.